Hey Everyone
Hope you all are having a good start to the month of June, and it's been quite awhile since I had posted...well, the end to my final exams/papers (mid-May) was pretty hectic as I spent a few long nights packing up my room (to move out) before just making it in time for a week-long camp that had no internet access.
After that, I went to a friend's house to chill before a wedding...and I broke my left hand in a whiffleball game, yes whiffleball. Google it if you'd like to find out more on that fine all-American sport :) So right now I am more or less typing with one hand at the moment...but it's fine and I am back with much less real-life work for now. Give a big hand to JQ who soldiered on for the blog, I am truly indebted to his faithful updates founded upon his undying passion for hobbying!
One thing you guys probably have noticed is that we love our micromachines, and perhaps we are facing an imminent end as we take shots of most of our little army vehicles. Or maybe we might get pushed further to ignite our creativity in order to capture more angles of our faithful toys.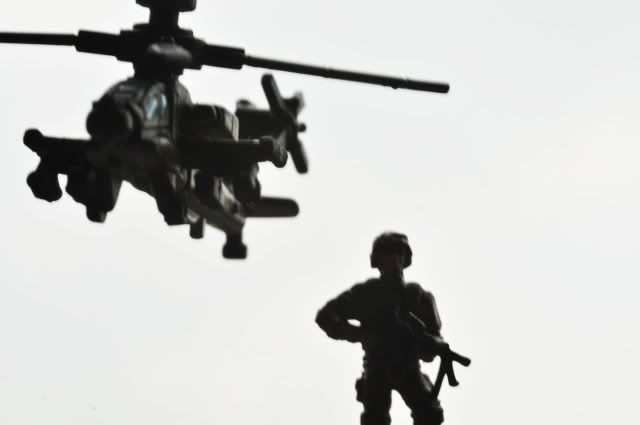 This shot's a particular favorite of mine, which required us to work together to get the shot right...of course holding the longbow in place presented quite a challenge! The sight of the AH-64D longbow does inspire awe in me...a proven tank-hunter that probably still stands at (or at least near) the pinnacle of attack helicopters of today. It reminds me of those Hollywood moments or army recruitment movies where soldiers move out under the protective aegis of helicopters above (through filtered lenses and color editing that advertises an otherwise rare instance in a life filled with mundane duties and rigorous discipline).
It just makes me think if slick advertising actually helps in recruiting soldiers...or do actual career soldiers make that choice on their own accord? Or could it be due to life situations like poverty and immigration? (apparently the US has a significant amount of immigrant soldiers guaranteed citizenship at the end of their specified service)