Hey Everyone
Life's been getting busy for both JQ and I (our academic schedules aren't letting us breathe too much heh). That's the thing about hobbies, there are times when 'real life' gets in the way of the things we truly desire to do...and as always, hobbying runs on $$$ haha.
Well, today we are featuring the Ka-50 "Black-shark" attack helicopter, once again courtesy of Micromachines, and sporting an unrealistic all silver-paint job :P (nonetheless I still miss micromachines, and if you look carefully, you can still get some sets on ebay.com)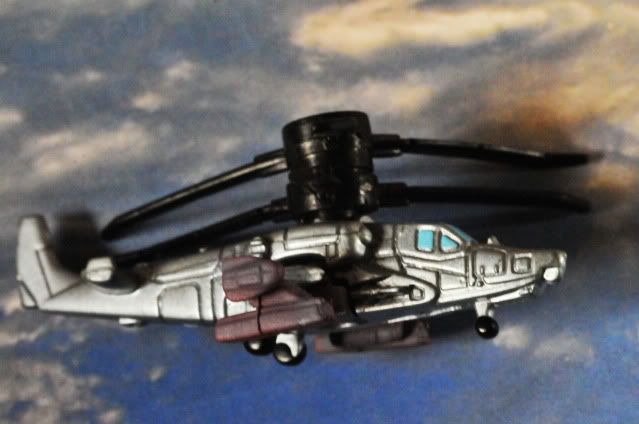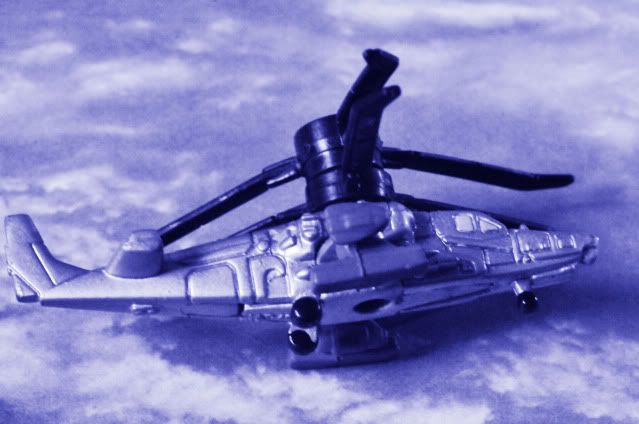 As with Russian military projects of the 1990s, the economic meltdown resulted in the cessation of the development and production of the Ka-50 helicopter. With Russia gradually rebounding back into greater financial health, some projects have been started again and production is slated to start in the future. To date, only a few Ka-50s and Ka-52s (2 seat, side-by-side) are in Russian service, with India and Jordan expressing interest...and Russia themselves restarting Ka-52 (favored over single seat Ka 50s) production in Fall of '08. The Mil-24 Hind (which has a cool design IMHO) remains the mainstay chopper for the Russians, but they have deteriorated due to a lack of funds, resulting in higher casualty rates in recent Chechnya conflicts.
Armed with 4 hardpoints and a semi-rigid 30mm cannon, Ka-50s are designed to work in a group of 4, with data-sharing of targets being shared among the choppers and ground personnel with appropriate equipment. The laser-guided Vikhr missiles are reported to be jam-proofed and highly accurate with automatic guidance provided by a targeting system (which allows the Ka-50 to take evasive maneuvers after ATGM launch). Also, the Ka-50's weapons control system allows the pilot to rotate the body of the chopper to aim the 30mm cannon (Shipunov 2A42), compared to turrets used in others like the Mil-28 or AH-64. Like the AH-64, it can carry short-range IR-guided A-11 Archer missiles (an improvement over the AA-8 Aphids)...attack helicopters carrying AAMs was always a cool concept to me since I was a kid.
If you're a fan of Battlefield (or other modern military games), notice that Russia is once again put in the forefront (especially for Bad Company 2)? I remember when BF2 came out a few years ago, the prime powers were the US, China and the Middle East Coalition (similar for C&C Generals), which was a 'new thing' during those times...reflecting the loss of prestige Russia had in contrast with China's rise to power. And now, Russia's back...and the lines between good/bad guys is predictably greyed. Unfortunately JQ hasn't played MW2, and I can't talk about the twist in that game related to that last point :/
PS: MW2 has a really cool single player campaign worth playing through, it's more polished than the one in BC2 in my opinion.