Hey Everyone
Apologies for being offline for quite awhile, my weeks turned out to be busier than expected and I've been collecting quite a lot of stuff to share with you all :) Many thanks to JQ for his recent posts on all things geeky and awesome.
This time, we're going into sci-fi stuff and it's about Quantic Dream, the French video game developer behind the groundbreaking interactive movie video game "Heavy Rain" (and also "Omikron: Nomad Soul" and "Indigo Prophecy"). Interestingly, they've been trying to recreate real life experiences in their games ever since MMX was the cream of the crop for computer processors (I'm old), and they've come a long way from their roots.
Lo and behold, Quantic Dream recently released a new PS3 developer demo titled "Kara", which demonstrates that the PS3 is still able to produce awesome graphics despite its age:
What strikes me about "Kara" is its exploration of one of the most prominent hot button topics in the realm of sci-fi: the human/robot dichotomy. Thoughts about the Terminator, Blade Runner, the Matrix/Animatrix, I, Robot, A.I., and Battlestar Galactica would surely come to mind in some of us...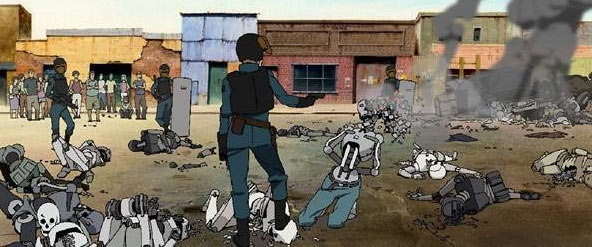 Thinking about Animatrix's "Second Renaissance" still gives me the creeps.
 It always captivates me how we (as humans) are repelled by robots/androids that either try to be human or appear too life-like to be cute anymore. What does it mean to be human? Are we playing gods when we "create life" like robots? Are our bodies simply biological machines?
A discussion on this topic can go on forever, but what I've found is that back in 1970...a Japanese robotics professor, by the name of Masahiro Mori,
coined the term "The Uncanny Valley"
to describe human responses to objects that lie within the spectrum of human likeness from an industrial robot to a healthy person.
Masahiro Mori, the man who coined "The Uncanny Valley" in a time long long time ago...
Mori actually got his inspiration from a 1906 essay written by Ernst Jentsch titled
"On the Psychology of the Uncanny",
who tried to describe how people's moods in uncertain events. In particular, Jentsch touched a little on the added emotional effect of storytelling is achieved by placing an automaton instead of a human character.
The graph below illustrates the main point of Dr. Mori's essay, that familiarity rises gradually until it takes a sharp dive at the zombie/corpse stage, before rising up to a healthy person's level. Falling sick and dying actually brings a person towards the bottom. I've added a picture of a bunraku puppet for illustration (if you ask me, a bunraku puppet looks rather creepy, like the Puppeteer from Saw).
I guess it helps to put a name on that creepy feeling I get from seeing robots/automatons that resemble humans, and the fear that comes when robots become 99.999% human. For one, I am unsure if we will see the day when robots will completely resemble humans, but I will be a fool to say that will not happen at all. A Japanese school has already
started to try out Saya
, a human-like teacher that is capable of facial expressions and calling out students's names.
Looking at how much science has advanced so fast over the fast few hundred years, and seeing how robots today are starting to look a lot more human than before...we can be in for an interesting time. Science fiction is indeed slowly becoming scientific reality...