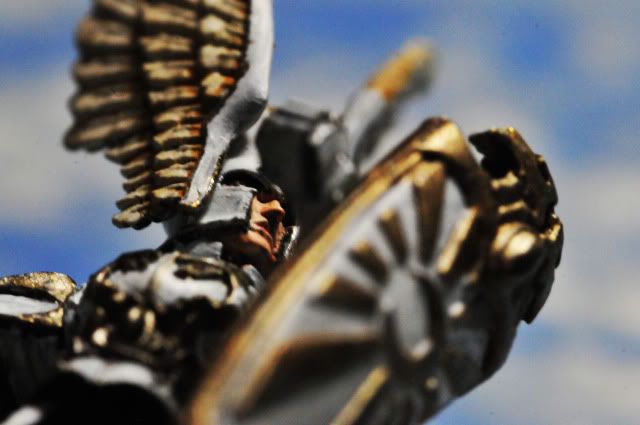 An Elven Hero looking into the beyond. (I might add that once in a while, both SLR and Model look great and benefit from each others artistic aura)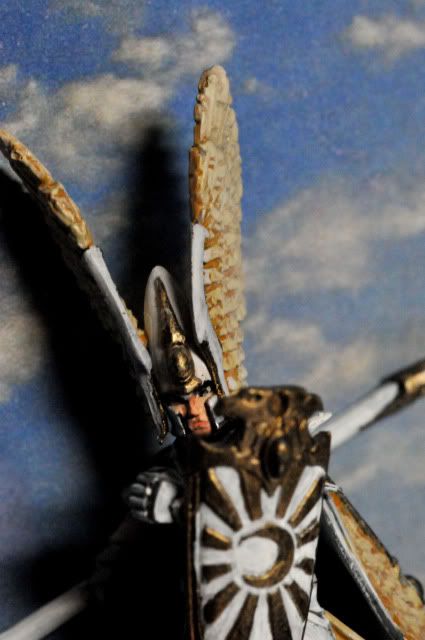 It's the "Don't Touch Me!" Pose by The High Elf Hero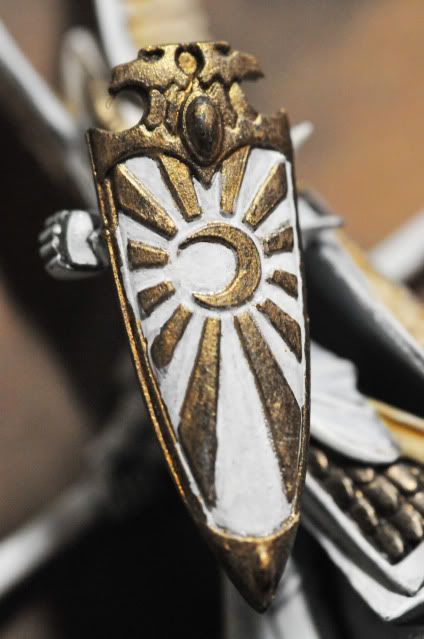 Close up on the Shield. High Elves are really fascinated with the crescent moon and sun and yadah yadah yadah. Nonetheless, it is some great drybrushing, blend work and painting by Mr. Tay Wei Ting
Good day again.
This time around we feature Weiting's infamous painted figure that is also a default on our blogskin. I must say, it is one of the most remarkable works from my friend. Took him an elven age to paint it too though.
HAHHA I may add, Painting is something that doesn't really stir my other friends, but when Weiting gets down to it and when he pays particular attention to detail, the outcome is pretty neat.
In any case, Wei Ting has been doing some trash talking with me about his High Elves. Admittedly, I had my own fair share.
So you must be wondering, How did we get to the point of being all guyish and vying for bragging rights?
Well lets get to the High Elf army. All these years playing with Weiting, Weiting has been complaining how crappy the High Elf army was. (Back then during the 5th edition) However, he had his fair share of victories here and there. Though i can only remember him defeating me once with his High elves against my Bretonnians.
However things took a turn for the better and the Current High Elf Army had many boost up. In fact, when the new High Elf army was released, I can recall them being dominant in many official tournaments.
Back closer to home, Weiting whooped Imperial and Chaos ass sufficiently. However, he was never able to break the track record of my Bretonnians. *Sniggers*
Have remained dominant, and still have.
But since we could vaguely remember when was the last time we met each other in a official "battle to the death" match between his High Elves and My Bretonnian, we decided to put it to the test again.
All I can say for is that I noticed that the characteristic of the player's army sometimes rub off on the palyer himself as Weiting arrogantly brags about how he is gonna MASSACRE and WHOOP my ass.
On top of drenching his weapons in Bretonnian Blood... It was hilarious to hear his trash talk.
All i can say for now is... stay tuned for the Battle Report.